What up punks, skins and those on roads less travelled! A new year is upon us, and therefore the Right Honourable Tony of Nurgle Esq. is back on the case. As usual, I will be making damning judgments from the comfort of my theoretical high horse, telling worthless anecdotal tales and generally casting about aspersions like shit from a most bountiful bucket.
Obviously, I've been quite lazy recently, and therefore did not get very far with reviewing the reader's suggestions I asked for on Facebook. If 2016 proves to be relatively lacking in promise musically speaking, then I am sure I will revisit these suggestions. I probably ought to write them down first though, before they are lost to the all-consuming spectre of times past or some shit. Right on.
As a special treat, rather than cussing out Leftover Crack fans (a worthy pass-time), I thought I'd give a run through of things that I thought were right right good and proper from 2015, including my top selection of the year. Admittedly, there wasn't exactly loads to choose from…
1. Faith No More – Sol Invictus (Ipecac / Reclamation! 2015)
2015 saw the return of the eternally contrary Faith No More as recording artists. This was a particularly momentous occasion for me, as they are a personal favourite, and indeed headlined the first proper gig I ever went to in Sheffield, 1992 (support coming from L7, who were at a career peak at that time). They were also the first band that I properly got into, back in the heady days of 1989 when the first single (From Out of Nowhere) from The Real Thing dropped, swiftly followed by the album itself. This album was of course the first featuring Mike Patton at the helm.
As usual, I digress. I had been somewhat concerned that this new album would be either utter dogger or a work of genius, with no middle ground to speak of. Thankfully, it tended toward the work of genius end of the scale, which for me, is very satisfying indeed.
At a sensibly balanced 10 track length, Sol Invictus (which is Latin for Unconquered Sun) certainly shows the standard FNM approach of non-conformity to musical trends, and the much celebrated schizoid journey through styles and approaches which they've tended to favour throughout their career. Comparatively speaking (from a general tone point of view), this album falls roughly between 1997's Album of the Year, and Mike Patton's 2007 solo project, Peeping Tom. Well worth a listen, but I'll warn you (if you've not heard it), it's as seedy as fuck, very catchy, and will get under your skin.
Sol Invictus takes the listener on a strange and not entirely comfortable journey (a very positive thing!) through the psyche of Mike Patton. Opening with the broodingly crooned title track, the album then drifts into Superhero (2nd single to be lifted from this opus), which encapsulates FNM's aptitude for crafting ingenius, hooky, pop-metal. This soon passes into Sunny Side Up (3rd single), a seedy, yet invigorating journey, which uses breakfast items as a source of descriptive comparison, moving from sedate blues-lite to a bellicose, squawking metallic crescendo. This serves as a perfectly poised build-up to the hammer and anvil pairing of Separation Anxiety (which exudes paranoia) and Cone of Shame (a genius work of unbridled belligerence, which I reckon is my top cut):
I'd like to peel the skin off
This winter day
I'd like to burn the hair off
This summer fling
What love can do when love's lost
Grow overweight
And smile as if
There's nothing left to say
Wear the cone of shame
Town is quiet now
Like it's holding its breath
Stone marks the spot
You know who you are
They outlined it in chalk
Word to the wise
And the barman calls die
I'd like to peel your skin off
So I can see what you really think
Or if there is anything
Under that cone of shame
I'd like to strip the bone off
So I can see how you're really made
And see how you really take
Your special pleasure
I'd like to pull your wings off
Read your lines like a gypsy
Just as lonely as anything
So infinite
Cone of shame covering all
You're only happy when you're pissing me off
Cone of shame covering all
I'm only happy when I'm pissing you off
The theme of the second half of the album flickers back and forth both musically and thematically. It seems to ooze through the darkest corners of the mind; to dwell under the skin like an oily daemonic presence. It's the different ways in which this is projected that's interesting here. Perhaps this is most evident in the closing trio of the album, from the jauntily exuberant pomposity of Motherfucker (1st single originally appearing in 2014), through the epic, sweepingly grandiose Matador (metaphorically speaking there are themes of rebirth, and triumphantly rising from the dead), which features a wonderfully descriptive line which I particularly enjoy: "The stained glass of bovine eyes can see right through every tombstone lie". The album is book-ended perfectly by the closer, From the Dead, which provides a soothing acoustic catharsis, and juxtaposes well with the brooding nature of the opening track.
All in all, this record is a fitting, satisfying and mature comeback album. I would in fact class this as their career defining work.
Tony of Nurgle verdict: 10/10.
As usual, of course you should form your own opinion, and you can listen to a full album stream here.
2. Good Riddance – Peace In Our Time (Fat Wreck Chords, 2015)
2015 also saw the welcome return of Santa Cruz melodic hardcore stalwarts Good Riddance, with their 8th studio album. I'm a bit biased here, as I still totally bum over 80% of this band's creative output (i.e. not the slower albums).
One of the things I've always enjoyed about this band is their consistent commitment to their own sound, which they've gradually refined over the years. I'm in love with the unrelenting high tempo and energy that they throw into their music, along with their unique take on pairing melody with hitting fucking hard. There's a certain tone to the guitar parts that I imagine is what it would sound like if tiger sharks played guitars. This is of course a completely ridiculous statement, but I feel like it's accurate. They may come under some criticism because they don't seem to have changed their sound or approach much over the years, but personally, I love them and respect for this. Good Riddance, if you are reading this for some obscure reason, don't ever change. Thanks.
Good Riddance are obviously a political band, and I can imagine that at the time of writing their music over the years, this will have been very topical for the times. However, there are more enduring aspects to the ongoing themes that will never be irrelevant: anti-war, anti-discrimination, animal rights, social responsibility.
Rest assured, these guys are still throwing down the hammers. Listen here and form your own opinion, but Tony of Nurgle's verdict is 9/10.
3. Spraynard – Mable (Jade Tree, 2015)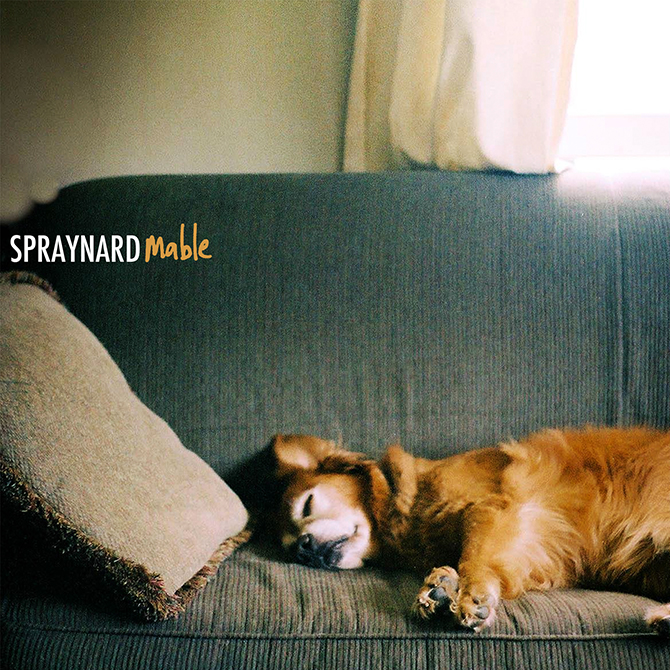 I'd been peripherally aware of Spraynard for quite some time, but had never bothered listening to them for some reason. Probably because a friend of mine has been referring to them as a poor copy of Latterman for quite some time.
Imagine my surprise when a song from Mable (Bench) popped up in my Soundcloud feed, and it was fucking awesome, yo. Off the back of this amazing discovery I did some further investigating, like a low-rent Scooby Doo, and discoered Mable. I promptly fell in love with this album. It's hard to not to understand why, when practically every song on there is an absolute banger. This entire experience reminds of when Through Being Cool (for the benefit of younger / entry-level readers, this is by the once Lifetime copyists Saves The Day, before they turned into full-on melts on a preposterously galactic scale – not that you'll know who Lifetime are/were, but that's a life lesson for another time).
This record has all you'd desire from a grufty melodic punk / quasi-Lifetime-esque tip: Unrequited love, rejection, burgeoning alcholism, loneliness, introspection etc. etc. From the opening lyrical couplet, it was pretty much a guarantee that I was going to be hooked:
"I am every person that you've ever ignored
I am the flaming bag of dog shit on your porch
I used to think I was a savior or a part of a cause
I now see I am nothing. Nothing at all."
I really quite seriously recommend that you check this out immediately, rather than letting me waffle on about how great it is. As mentioned earlier, it's pretty much end to end bangers on this, but especial stand out moments for me are opening track, Applebee's Bar, Buried, Pond, and the aforementioned Bench. As per, I'd encourage you to form your own opinions. You can Stream the album here.
Tony of Nurgle's verdict: a solid 9.5/10.
4. Dogs on Acid – S/T (Jade Tree, 2015)
Firstly, I am well aware that this review is well and truly overdue. I ought to have reviewed this when it came out, but that was obviously (well, approximately) summer 2015, and I hadn't even decided to start this blog at the time. OK – apologising over. Where to start? This album is truly fantastic, and has had both an immediate and an enduring appeal for me. I've really thrashed this album a fair bit since it came out, so quite how I overlooked including it in the first part of this feature, I have no clue. I must have been feeling particularly despondent at the time. The clued up amongst you have probably been aware of this for ages, so this should be considered a write-up for those that haven't come across it so far.
Dogs on Acid have produced a really driving, yet melodic debut album. The composition is very well considered. Considering the band are a three-piece, they've successfully captured a huge indie rock sound that puts me in mind of Green Mind and Where You Been? era Dinosaur Jr. (realistically there's no denying this particular influence, but why would you?) nicely rounded out with that distinct mid-late 90s emo feel that was embodied so well on classic releases such as Jimmy Eat World's Clarity and The Get Up Kids' Something to Write Home About. Interspersed into this are some other nods to classic Weezer, as well as Pavement (think the time around Slanted & Enchanted or Crooked ain, Crooked Rain), not to mention other personal favourites of mine, the Weakerthans.
If you've not already skipped ahead to the links, you can stream the album through the following Bandcamp page or the Jade Tree website. Get on this, it's a right treat for thy ears.
https://dogsonacid.bandcamp.com/
http://www.jadetree.com/dogs-on-acid/
Tony of Nurgle verdict: 9/10
5. Basement Benders – Lydiad (No Idea, 2015)



This one crept up on me completely by surprise, particularly as I keep a rough finger on the No Idea pulse. This fantastic opus dropped in November 2015, and to be honest I'm totally hooked – this shit is infectious and should probably carry some sort of health warning.
Apparently, this crew feature members of This Bike is a Pipebomb (a band that never did a fucking thing for me to be honest) amongst others. Musically, this seems to be a real step in a different direction to (at least) TBIAP's acoustic anarcho-folksy musings, and I can imagine that their shows are probably drunken punx as all hell.
Attempting to not make wild assumptions (which I will no doubt make anyways), I'll throw it out there that this is must be some kind of self-deprecating homage to Homer's Iliad meets James Joyce's Ulysses. Having never read either of these tomes – as I'm an uncultured oaf – the above statement is obviously utter nonsense. I've got an excuse though, as in the words of Morrissey, I'm feeling very sick and ill today, and I'm existing in a semi-stupefied state, slightly out of kilter with general reality (what's new?).
Something that really gets me about this record are the aching themes of bitterness, overly self-conscious social awkwardness and regret, seemingly interposed with wry situationist comedy type (assumed) real-life situations. It creates an understanding in me as something of a self-criticiser and creator of my own semi-fictional existential angst.
"But what does it sound like, O Tony of Nurgle?" I hear all three regular readers of this blog chorus at once. Well, I alluded to a sense of drunken punkness earlier on, that puts me in mind of Reinventing Axl Rose era Against Me! butting heads with the Moldy Peaches, with a healthy dose of Off With Their Heads (From The Bottom era), all spiced up with melodic guitar tones that put me in mind of the Down and Outs (Liverpool, UK).
I would suggest, as ever, that you immediately head over to the link below and check it out and form your own opinions.
https://noidearecords.bandcamp.com/album/lydiad
Tony of Nurgle verdict: 9/10