I'd never heard of Dogbreth before but, on paper, this band is right up my street. However, and I know I am going to sound like a proper whiner here: what happened with the name? Is that a typo? Surely, surely there should be an A in there – right? Hmm. Spelling aside, I listened to the album. What Dogbreth did here made me forget about the spelling. They wrote a cracker of an album. This one will be on rotation for quite a while for me.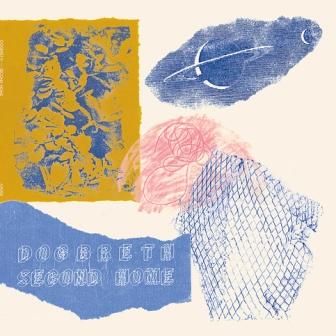 What should you expect? Second Home is a refreshing breath of solid quality lo-fi pop-punk-rock. The album could drop nicely into a playlist consisting of the Lemonheads, the Unicorns, the Black Box Revelation and Dinosaur Jr. – and your ears would thank you for the listen (of course, if the other bands mentioned do it for you…). Sure, it doesn't have the guitar work of J Mascis, but not many lo-fi / garage bands do: which is pretty much the point.
It turns out that this is Dogbreth's third offering. Had I listened to their earlier albums, I am not so sure I would have given this one a whirl. Their first output, Chookie, is pretty much as the name suggests – 2000s California pop punk. I'm reminded of Nerf Herder and the ilk. Fun at the time, but I have personally moved on. Their next offering, Sentimental Health, had a similar sound, but with a whole heap of Pavement influences. OK, but nothing to excite me. So with that in mind, I am very glad to have dropped in with Second Home. I won't be working backwards, but feel free to yourself, the band has the albums up on their Bandcamp page:
https://dogbreth.bandcamp.com/
Second Home begins and ends with songs that just make you feel great. Almost Right has strong overtones reminiscent of the Caesars, a sound that is reflected in the final song. A strong start to an album is always a bonus, and I was hooked from the get go. The only down-side to this song is the long break that, whilst working, might prevent it from being easy to play in a club. Shame, as this song deserves to be danced to. However, that role can also be filled by the final song, Hoarder House – and that is not something you normally expect. How often do you feel so invigorated by the final song that you immediately want to put the album back on? Yes, I play albums on repeat, but to finish so strongly makes you 'have' to play it again. A smart trick – certainly worked on me. No surprise that it became the second single to be released off the album.
The first single, Cups and Wrappers land us squarely in Dinosaur Jr territory, and does so with a competent ease. Cups and Wrappers has a super laid back approach which suits the somewhat reminiscent / melancholy feel of the song. The lyrics "cause rock and roll won't make it all ok, but it used to seem that way" resonate strongly with this older soul. This song may well by my favourite on the album and is a great first single – but it is a tough call and may just be pipped by another.
Stunner (another Dinosaur Jr. nod) and Walky Talky take the pace up a notch, sliding in to lovely a pop-punk rhythm. The later has the lovely lyric "Hold my head up like a dog walking". I don't know why I like this, but I do. And it is ironic, given that my last review was a 7″ written as an ode to cats. I do like cats, but I know I am a dog person.
My only regret about Walky Talky is that this is one of only two songs on the album featuring a female singer. I say this, as I really like her voice and feel that it falls into the backdrop of the music perfectly. When heard in conjunction with the male singer, such as on the lovely Hot Plate, there is a beautiful harmonisation that just works. The same way that the Moldy Peaches voices fit together perfectly, so it is here. I don't want to hear less of the male singer, I want to hear more of them both together. These tracks are great.
As much as I love this album for its fun and pace, there are a couple of ballads on here. Monday Night Nitro and Cold and Blue both fill this roll and do so competently. They are good enough songs, but I do want to get onto the other tracks and may occasionally hit the skip button.
For all the love, the second track, Steeping, causes me some problems. In all, I like this song. I like it quite a lot. Until I hear the saxophone. Ah, damn. So, I don't dislike sax, but I do dislike it in rock songs. It sends me back to the cheese rock of the 80s and no one needs to be reminded of that. I read another review that waxed lyrical over it. I have little respect for that review. I know, it is a personal gripe, I realise. But I hate it. And I feel it ruins an otherwise perfectly good song.
Do You Really Want Me is the song that probably wins my 'track of the album'. This song adds a heap of skuzz to it, and this girl loves a skuzzy guitar sound. I grew up with grunge, what can I say? Kinda like the first 'proper' Purling Hiss album, Life on Mars, this song takes the song craft of the band and adds that little bit of garlic that makes it taste that much better. Wicked.
Not much else I can say really. I enjoyed this album and have listened to it far more than I needed to. This is going to be a recurrence for quite a while. Well worth a listen on Bandcamp and, if you like it, pick up the really rather pretty split-purple LP. I will be!
http://asianmanrecords.storenvy.com/products/1256183-dogbreth-second-home-lp