By way of introduction, PEARS hail from New Orleans, Louisiana. They formed in 2014, and weirdly are the first band to be signed to Fat Wreck Chords prior to meeting Fat Mike… Green Star is their 1st 'full' length record, and follows a 7in, 'Letters to Meemaw'(Fat Wreck Chords, 2015), and a mini-album 'Go To Prison' (Fat Wreck Chords, 2014). According to the understated descriptions to be found on the internet, PEARS are a hardcore punk band…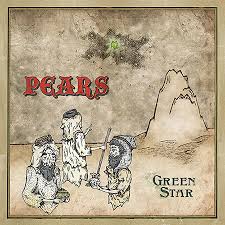 …but, ladies, gentlemen and animals of all stripes, I can assure you that they are much more than that. Do they sound exactly like a massive sack of pears? Regrettably not.
After hitting 'go' on this, after being treated to some kind of old childhood recording of a kid and mother playing with what sounds like some kind of electronic educational toy, 'Hinged by Spine' boots in with all the gusto of Propagandhi ripping through Kill 'Em All by Metallica (1983, Mega Force). Do the comparisons to a punk rock band playing 80's speed metal stop there? No, do they bollocks, mate. Throughout the record there are sound reference to Slayer, and on I Love My Kennel there is a strange Dave Mustaine-style vocal break, which takes me back to Peace Sells… But Who's Buying? (Megadeth, Capitol Records, 1986 – which oddly enjoyed its 20th birthday t'other day) and being some kind of spotty little prick listening to it obnoxiously loud on a tape Walkman on the school bus. I can only declare that this kind of rules.
"But Tony," I hear you cry (or at least the three of you reading this), "are there other dimensions to this, or is it merely some sort of punk rock tribute dodgy thrash bands that are now long past their best?" Well now, I can assure you that the thrash revival that saw the light a few years back is not what we have here, although that scene did produce a good couple of memorable groups. I'd remind people that this is my opinion rather than cold hard fact, but I'm also hearing what sounds like Kid Dynamite bashing out A Wilhelm Scream songs (only without the irritating stop-startiness and pointless techy twiddliness that seems to plague AWS songs). This is a good good thing for me. I loved Kid Dynamite, and AWS have written some awesome riffs.
This isn't the only fusing together of stuff that I'm hearing, though. There's also elements of GBH in the mix, not to mention Sick Of It All style crunchy riffage and mini-breakdowns (not a technical description, but hey I'm not a musician – incidentally, something the world can probably be thankful for, as I'm apocalyptically uncoordinated, being right handed and left footed) and Lou Kohler style vocals to complement them. I'll also throw out an ambitious crusty metallic nod to the likes of Cursed and Black Breath on some fairly brutal parts.
Now, having read this, you could almost be forgiven for thinking it all sounds a little bit too far towards the 'metally' end of the spectrum. Which I will admit to thinking, on first listen, outweighed the more melodic elements. However, on subsequent listens, it's clear that there is so much more going on. There is an overarching appeal here for Propagandhi fans, referencing both their poppy hardcore punk days and the progressive thrash of more recent offerings. Not to mention the gritty vocal melodies, which put me in mind of Russ Rankin (Good Riddance), Joey Cape (Lagwagon) and Tim Barry (Avail).
Each time I've put this record on, I've found something new about it. Considering it clocks in at about 27 minutes for 15 song tracks, they've crammed a lot in. Thankfully, it doesn't suffer for this though. I'm told that these guys are an incendiary live experience, and I can imagine it would translate really well to a live setting, and possibly surpass the recorded material. It might well be a while before I find out, as they played the UK last month, and I had no idea. Now, given that I'm something of a recluse, I likely might not have gone anyways, but that's not a given.
In conclusion, if you dig any of the bands referenced here, or generally have musical tastes that include melodic hardcore, or skate punk with a metallic edge, as demonstrated so well by RKL's Riches to Rags (Epitaph, 1994), or on NOFX's White Trash, Two Heebs & a Bean (Epitaph, 1992) then you really want to have a listen to this.
Anyhow, Tony of Nurgle verdict: a very respectable 8.5/10
As ever, I strongly advise forming your own opinion, even though I am as good as my word (perhaps better, it has been said). Stream it from their Bandcamp page here:
https://pearstheband.bandcamp.com/album/green-star
Incidentally, you can find the other two records there too, so give them a blast while you are at it.
You can buy 'em all from https://www.fatwreck.com/