First off, I need to give my man Mike Park at Asian Man records a big "yo!" for kindly agreeing to send me stuff to review – much appreciated, my friend.
Now, as this is the first official thing I've been sent to review, I was a little nervous. Before I put this on, I was a bit worried about what I'd say if it was bad, as, you know (or may not know), I'm brutally honest. Brutally. And I have a predilection toward not liking two-piece groups (or is it pairs or duos or what?). In this case, I'm pretty pleased to say I worried needlessly. This is pretty damn awesome actually. Read on to find out more.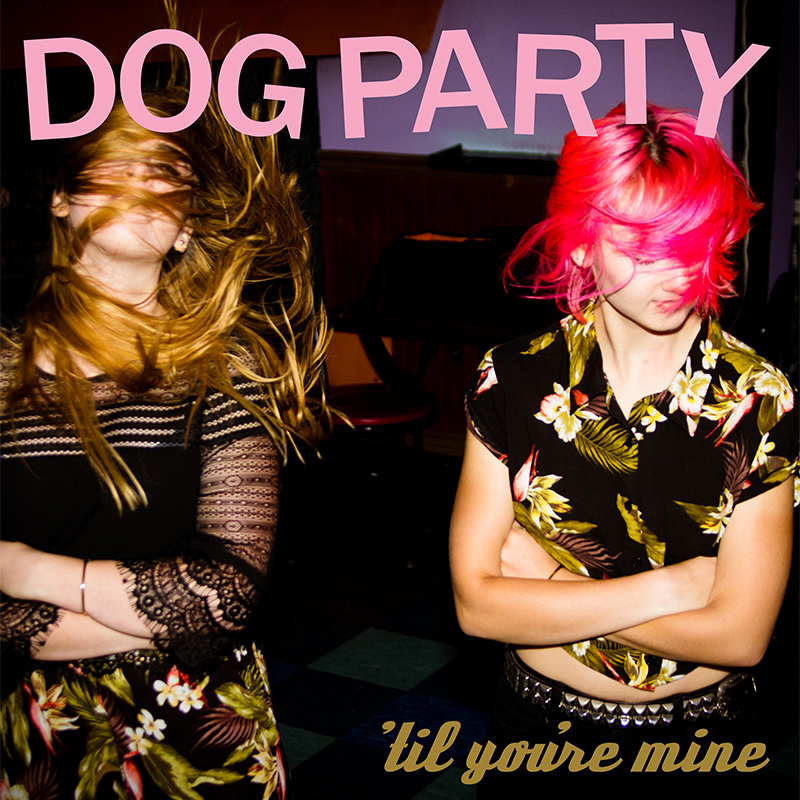 A bit of background stuff first of all… Dog Party were formed in 2007 by sisters Gwennie and Lucy Giles, and they come from Sacramento, California. They describe themselves as a two piece rock'n'roll band. Which initially worried me. The White Stripes with their ludicrous vocals and terrible drumming? Yuck. On a different slant – Lightning Bolt with their pretentious, self-indulgent sludgy noodling? Fuck no.
So what do they sound like? Pretty much like Bikini Kill bashing out sweet Ramones covers. It's great. In fact, the press release indicates they are indeed huge Bikini Kill fans, and this record features an awesome cover of the classic Rebel Girl. But the influences obviously don't stop with BK or the Ramones. There's hints of surf guitar bands like Man or Astroman, and oddly I find myself picking out a Dwarves-esque pop-punk influence (minus the accompanying sleaze).
I'm finding myself on an amazing nostalgia trip here. I'm feeling the brash, high-octane yet melodic power-pop sensibilities of bands like The Professionals and Teen Idols. There's also a charged indie-rock feel that reminds me of American Thighs era Veruca Salt and the Breeders (without the shit bits). The music may be sugar-coated, but it belies a certain bitter-sweetness that's really tough to bring off. The more I listen, the more satisfying this is. It's totally summery, but with enough of a dark undercurrent not to be joyful. Who wants happy songs anyway? If you do, go and listen to Pharrel Williams (did I get his name right) or somebody else that wears stupid giant hats. I for one do not need to hear other people singing about how happy they are and how great life is. Luckily I don't need to. There's something inherently uplifting about this that speaks to loves, losses, regrets, life lessons, and taking shit in your stride. It's all delivered with a boatload of sass and a self-deprecating sense of humour. It feels honest, in a music scene that sometimes feels lacking in honesty.
This record rips right out of the starting blocks with title track 'Til You're Mine and keeps the pace up pretty consistently through the whole course (with a mellowing pause for the very surfy Layback). This is ballsy, riffy and backed with tight, bombastic drumming. It's catchier than thee great plagues of olde 14th Century Europe (there were three separate strains simultaneously doing the rounds in those days, including bubonic, pneumonic, and septicemic. A Tony of Nurgle Factoid for the people, there) but thankfully much less fatal. Suffice to say they've picked up some awesome influences along the way, and it's made for a very pleasurable record for listening (and probably dancing: Tony of Nurgle dances not). Call it rock'n'roll, call it girl punk, grrl rock, power-pop or whatever you want. This record ticks all the boxes, and is likely to make it to my best of 2016 at the end of the year…
Tony of Nurgle's personal highlights included (as well as the title track) include Enough, Round n Round (which weirdly reminds me of Everybody's Girl by the Dwarves in certain places), and I Don't Need You.
Tony of Nurgle verdict: 9/10
Now then. In the past I've usually linked to legal streams of the records I'm reviewing, and encouraged people to form their own opinions. However, as this one is out on the 5th August (this Friday, kids; i.e. not yet), I can't do that at the moment. But it is a very reasonable price from Asian Man, so go buy it from Asian Man here.
You can also go listen to their previous releases here: http://dogparty.bandcamp.com/
And check out their website here: http://dogpartyrocks.tumblr.com/