What up crazy dog people and crazy cat people (and general cray-zeeez)? This article is a bit of an introduction to a label based in Boston, Massachusetts called State Line Records. It's a nice little self-started DIY outfit doing stuff right – putting out records and rocking hard.
The brains and creative drive behind this operation is Mark Lind, currently of The Warning Shots, Sinners & Saints, as well as a number of other projects that are currently on hiatus such as the Ducky Boys. Mark has been playing in punk rock bands since at least 1995, when he formed the Ducky Boys in Charlestown, MA.
This guy has made a lot of records over the years. Like, seriously, a lot of records. Some of my personal favourites, not to mention widely acclaimed records include Three Chords and the Truth by the Ducky Boys (Thorp, 2004) and Sinners & Saints' The Sky is Falling (Bridge Nine, 2002), on which he collaborated with his brother, White Trash Rob of Blood for Blood.
Now, State Line is something of a family label, and at the current time features only recordings that either Mark or Rob have played on, all of which are hosted through the State Line Records bandcamp page. Mark is also running a distro featuring some seminal punk rock and hardcore albums on vinyl from the same bandcamp page (although this does make the bandcamp page a little difficult to dig through for the actual State Line releases – although I'm sure this will get sorted out soon enough!).
I'm going to give some quick reviews of some of the most recent stuff, and then give you a whole load of links to the discography so far…
Ramallah / Sinners & Saints – Back From the Land of Nod
This split 12in is representative of something of a reunion for both bands concerned, and came out in May 2015, launching at a Sinners & Saints show (which I was lucky enough to be able to attend) at the Middle East in Cambridge, MA (just at t'other side of the Charles river from Boston's Back Bay). The title of the split is a reference to White Trash Rob's return from his self-imposed exile from the music scene, as well the aforementioned reunion of both bands.
The Ramallah side of the split is, I imagine, some form of catharsis for Rob, as he bares his soul about walking the hard road back from addiction. He gives voice to his inner demons and gives insight into the squalor of being a slave to opiates of all stripes, and the dark places his dependence took him, not to mention the anecdotal references to some of the terrible and horrific things he bore witness to in pursuit of fuelling his addiction. There are some very bleak tales being told here, but living in the thrall of addiction is a joyous or safe experience, riddled as it is by violence, misery and the physical and mental strains and pains of going through detoxes, not to mention the hold and power the drug dealers have over their customers. We get some kind of insight into self-destruction and the lengths a person will go to in order get the chemicals they depend on.
Surprisingly, it's not all a crunching angry whirlwind of moshy metallic hardcore. There's some real gentle introspection going on here too, on Here We Are, not to mention the bitter self-deprecation of Comedy (Now I Get The Joke), exploring the oblivious self-sustaining cycle of self-destruction that is drug addiction, viewed with a bitter hindsight from an attitude of living sober, but always subject to temptation.
It's perhaps this new side to Ramallah's music that makes it fit so well with the Sinners & Saints side of the record. For those not familiar with Sinners & Saints, they released their classic debut album, The Sky Is Falling (Bridge Nine) in 2002. The creative forces here are Mark and Rob, respectively bringing their own street punk and hardcore influences, and focussing them through the lens of a mutual fascination with the Guns n' Roses' classic, Appetite for Destruction (Geffen, 1987), and seemingly, Springsteen's Born to Run (Columbia 1975), culminating in a true genre buster. The Sky is Falling holds a well deserved place in my personal top ten records of all time. You need to own it. It fucking rules, yo.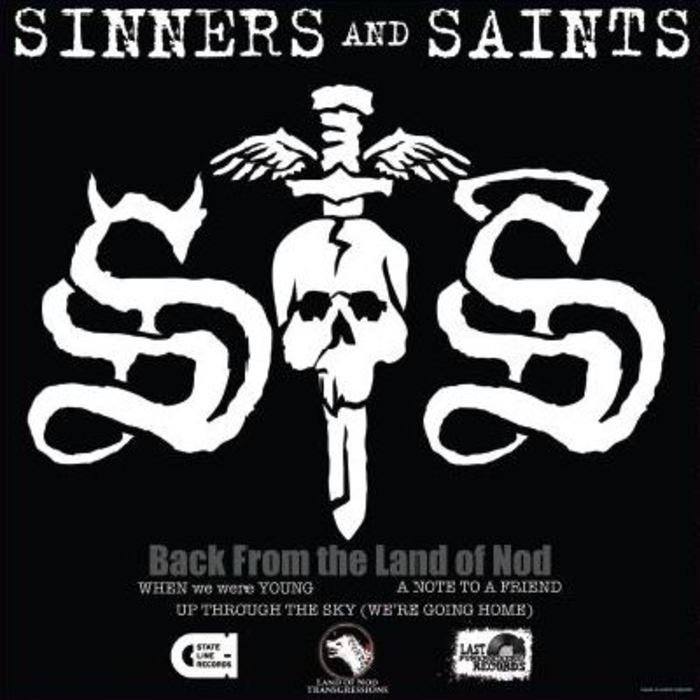 Opener, When We Were Young, is a raw, hard rock-edged punk rock anthem of discarded youth and young loves lost, with the refrain:
"Do you remember when we were young? Do you remember when we were in love? But now we're fading away…"
The undertone here is subtle, and speaks to the sadness and disillusionment of not only growing up angry, young and poor, but being forced to grow old too soon as the melancholy last lines make the haunting statement:
"Do you remember when we were young? We were never young…"
For some reason, the introductory bars to A Note to a Friend remind me of one of the jaunty pieces of character music from Twin Peaks, but it rapidly segues into a maturely written and well structured paean to lost and forgotten friendships and loves. To putting shattered lives back together, and getting through broken dreams.
The closer of this side, Up Through The Sky (We're Going Home) is musically quite an uplifting, fist-pumper of a song. By contrast, lyrically it's an ode to friends that have passed on from this life, and seems to me to indicate that offering the best advice and having the best intentions aren't always enough to prevent the demise of those you care about; those you would call 'brother'. Life is tough, and sadly sometimes a person can only roll so far with the punches before they just can't take anymore, and they'll find themselves on the path to taking their own life or on the way to an eventual end through drug abuse. These are the horrors some people face as they try and exist in an uncaring modern society. However, it's not all doom and gloom, this is more of a tribute to fallen comrades, and expounds hopeful sentiments of meeting again in the next life (should there turn out to be one).
The final spoken line on the record seems to bookend this side perfectly:
"May your road rise to meet you brother. I remember when we were young."
Although seemingly a contradiction of the sentiment expressed at the end of When We Were Young, anybody that's been round the block a few times knows that life is full of contradictions, and also multiple layers of meaning. Although the great card game of life can more often than not deal you a shitty hand and make a real motherfucker out of you, although growing up can be a hard (and hardening) experience, you can still uphold those golden memories of youthful misadventure, battle scars and valour.
To conclude, you need this split in your life. Both sides are great, but personally speaking I feel a very strong connection to the Sinners & Saints side.
Listen and/or buy here.
Ramallah – The Truth…It's Colder Than A Morgue Slab And Harder Than A Coffin Nail
Ramallah have been around on and off since around 2002, and have often been overlooked as something of a Blood for Blood side project. They started off as something of a reflection of a world that's lost it's head to bloodshed, depravity and violence. In 2005 White Trash Rob explained it thus: "We live in terrible times. People should be terrified and horrified and disgusted at what's going on in this world and in their name every single day. Ramallah is here to shove it all right down their throats."
At that time, this was something of a departure from the more personal anecdotal style of lyrics that Blood for Blood are well known for. As time passed, Ramallah released their debut, But a Whimper (Bridge Nine, 2002) and a second album, Kill a Celebrity (Thorp, 2005), before splitting up in 2007. However, the year 2015 saw them return and release a split 12in with Sinners & Saints (see below), and in recent months they've started demoing cuts for a new record, of which The Truth… is the first.
This is some strong shit. Easy listening it is not, and it seems to feature something of a return to Blood for Blood's more anecdotal style of storytelling (or home truths!). This song is split into two distinct thematic (and musical) parts, the first of which seems to primarily deal with themes of addiction to opiates, alcohol, and recovery from the same, and the associated shame and self-disgust that come from that struggle. The second part segues from this theme into the traditional and much loved White Trash Rob territory of heavily jaundiced societal commentary on the world at large, with a bit of special attention lavished on the hardcore scene and it's accompanying twin blights: self-obsession and one-up-man-ship. Ramallah have managed to turn what could have been an unwieldy, cumbersome concept into a swaggering behemoth of a cut that has tough as old boots moshy riffs, sleazy riffs, and more "nah-nah-nahs" than you could shake a stick at. This is fucking boss.
The Warning Shots – Volume I: Six to Midnight
This is the first EP from label owner Mark Lind's current mainstay project. For me, this seems to pick up right where Three Chords and the Truth (The Ducky Boys) left off. What we've got here is some rapid sing-along, heart-felt oi-influenced street punk. It's ballsy, it's melodic and it's punchy as fuck. It's got that working class chip on the old shoulder that I'm really partial to: "what's it like to be on top? I don't know, and I doubt that I'll find out" (on Terminally Insane). There is no escape from this blue collar Springsteenian hell. Rock n' roll the way it should be, in other words. As the Hudson Falcons once sang, "rich kids can't play rock n' roll, it's music from the streets…". Other themes include lost youth and heartbreak. What more could you need, really?
Musically, apart from obviously sounding a lot like classic Ducky Boys records (being primarily members of the Ducky Boys!), there's nods to fellow Bostonians such as the Dropkick Murphys (without the shit bagpipe bits) and Street Dogs, as well as bands like the Explosion and the Bouncing Souls, which really come through in the melodies. If you enjoy gang vocals, woah-woahs, nah-nah-nahs etc. as much as I do, then you'll love this.
The Warning Shots – Volume II
The Warning Shots have taken it up a notch with their second EP. It's not a departure from their previous sound, but more of a development. It's got more of a cocky, 'swaggering' bass driven sound to it than EP I, in a way that puts me in mind of Matt Freeman's playing on two Rancid albums in particular. Firstly … And Out Come The Wolves (Epitaph, 1995) and secondly …Honor Is All We Know (Epitaph, 2014), excepting of course, the crap bits of those records. If this sounded at all like the crap bits, it would be a very different review, believe you me.
There's something about the music and lyrics that Mark writes that I just find very appealing. The lyrics have an honest, autobiographical feel to them, in a way that's earnest but without being trite and annoying. Perhaps it's because we are of an age, and from equivalent socio-economic backgrounds. I'm not sure. But I can tell you I feel like I can relate.
Snappy opener, Make Your Move, gives true meaning to family values and bonds of blood and valour, while Right There Beside You is a spitefully satisfied ode to a former lover. The next stand out track here is Your Lost Faith, a driving, serious number that again puts me in mind of the Bouncing Souls – this time in their Gold Record period (Epitaph, 2006). The closer, Brad Logan, feels like something of a confessional, and again that classic Rancid-esque swagger feels quite strong. This is, simply put, a damn fine example of modern street punk shows influences in a quite intelligent way rather than suffering from being an identikit tribute act. Highly recommended!
State Line Discography (roughly from most recent to oldest)
OK, there's a wealth of stuff here, all of which is available to stream or buy. Some of it is free to download, plenty is pay what you want.
I'd encourage you all to investigate…
Various artists – Boston's Burning vol. 1
Ramallah – The Truth…It's Colder Than A Morgue Slab And Harder Than A Coffin Nail
The Warning Shots – II
The Warning Shots – I: Six to Midnight
Sinners & Saints / Ramallah – Back from the Land of Nod
The Ducky Boys / Pinkerton Thugs – 45 Revolutions Per Minute
The Ducky Boys – Dead End Streets
The Ducky Boys – Chasing the Ghost
The Ducky Boys – Chemicals
The Ducky Boys & Brian McPherson – Harmon Street
Mark Lind & The Unloved – Homeward Bound
Ebenezer Blood – Was This The Only Way?
Dirty Water – s/t
The Ducky Boys – Dark Days (the B Sides)
Mark Lind – Demos Note: there are 46 tracks on this motherfucker
Mark Lind – Compulsive Fuck Up
Dirty Water – Demos